Tuesday Ladies Bible Study (TLBS)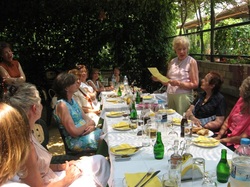 Our Bible Study is held weekly at two locations on Tuesday mornings from 10.00 am to 12.30 pm. One group meets at a home in northern suburb and the other meets at Pallini, eastern Athens.
​
We follow published Bible studies, both with and without DVD sessions, from a range of well-known author's including Beth Moore, Kay Arthur, Joyce Meyer, John Ortberg and Rick Warren, to name just a few. We have also completed the Alpha Course by Nicky Gumbel and World Harvest Mission's "Gospel Transformation", and shorter studies by members of St. Andrews covering specific subjects.

The TLBS has been meeting for many years under the leadership of Women Ministry of St. Andrew's. The uniqueness of this group of women consists in their practice of unity in Jesus Christ through the study of the Bible as the true Word of God regardless of an individual's denomination. For those who are unable to physically attend, we will be available via Skype.

The group is open to all and includes worship, prayer and coffee fellowship as well as in depth Bible study. For enquiries please email or contact the Church office.


---