Christmas "Craft Tea"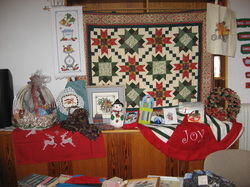 The Christmas Craft Tea is held every year during the month of December at the church premises in Sina 66 Street. The primary purpose of the Christmas Craft Tea is to celebrate the advent season with fellowship and fun. Hand-made crafts are available and a raffle is drawn with some fabulous 'one-of-a-kind' gifts. Delicious festive food is also available to eat there and to take home. The Indonesian and Filipino fellowships have ethnic food and crafts tables with exotic crafts and batiks.

Complementary tea and coffee is provided. During the afternoon a musical program is performed at intervals in the auditorium.

If you would like to help with the organization of the Christmas Craft Tea or contribute in some way, please contact the Women's Ministry.


---